Bilbo Music Navigation
The Band
The Music
Information
New Live Dates
Other Stuff

---
Fan Club
---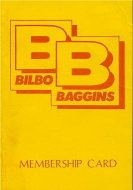 The Bilbo Baggins Fan Club was started by Tam Paton and then carried on by Stuart Spence, Brian's brother. The news tended to be about appearances (TV or tour), thank you to fans. When fans joined the club they received a club membership card (see image on the right), a history of the band, the latest newsletter (see below), pictures of the band and later on a small badge. The cloth badge (see top left of all pages) had to be bought separately for 80p.
To read the newsletters click on the images.
| | |
| --- | --- |
| November 1975 Newsletter | Summer 1976 Newsletter |
| Autumn 1976 Newsletter | |
In addition to the newsletter, the fan club also produced a history of the band up until that point. To read this history click on the image below.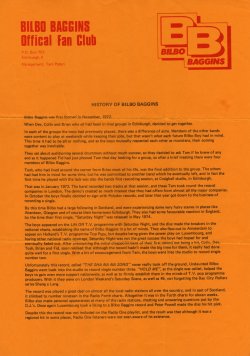 Page Last Updated: 4 March, 2010
© Morley Enterprises 2006 - 2010. This site, BilboMusic, is a personal site and is not affiliate with Bilbo Baggins, Bilbo, Brian Spence, Colin Chisholm, Jimmy Devlin, Gordon Liddle, Gordon McIntosh, Tam Paton, Chisholm & Spence or anyone else for that matter. Any copyright infringement is accidental. The pictures and music on this site are there for information only. They are not there for any commercial purpose. Therefore, if anyone representing the artist(s) or record company(ies) want me to remove these items please mail me and I will remove them immediately! This site, BilboMusic, and Morley Enterprises are not responsible for the content of any other websites that are linked from here. So there.