Bilbo Music Navigation
The Band
The Music
Information
New Live Dates
Other Stuff

---
Gordon (Tosh) McIntosh
---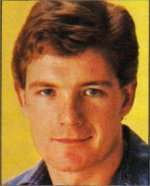 Birthday: 10.01.1953
Guitar/Bass Guitar/Backing Vocals
Tosh comes from the Clermiston area of Edinburgh where he grew up with two sisters. He had played with several local bands before becoming the last one to join the original line-up of Bilbo Baggins and soon took part in the recording session which eventually secured their record deal with Polydor. Originally the lead guitarist, Tosh adapted well to his change of role to bass player with the departure of Dev.
Known for his own rather sarcastic style of wit and a rather interesting collection of 'holiday' shirts, Tosh liked to joke around. Another football fan, Tosh supports the Edinburgh team Hibs and also has a great love of pool and snooker. If the venue had a pool table you would always know where to find him.
Tosh still lives in Edinburgh and is still a keen musician.
To find out what Tosh is doing now go to Bilbo Today.

---
The information collected below is from various promotional information sheets. Sometimes the information conflicts, i.e. year of birth, eye colour, etc.
Name

Gordon McIntosh

Birthdate
10th January 1955 (or 1953)
Birthplace
Edinburgh
Height
5' 8"
Eyes
Blue
Hair
Blonde
Weight
9st 11lb
Home
Edinburgh
Instrument played
Lead Guitar,
Bass,
Harmonies
Musical Education
Self taught
Early Musical Influences
Alex Harvey,
Tamla / Soul music
Favourite Records
"Birthday Party" - Idle Race
First appearance
1968 Double date, public school barbeque with Dev then 21st party
Biggest break
Forming Bilbo Baggins
Hobbies
Tennis and football, supports Hibernian
Favourite composer
McCartney
Dislikes
Cigarettes,
running for buses,
rain
spiders,
Being Broke and not being able to play snooker.
Likes
Watching television (Crossroads),
eating good food,
Snooker,
Pool,
Money
Toffee Apples
Favourite Films
The Three Muskateers
Favourite TV Programmes
Pot Black
Favourite Personality
Leonard Rossiter,
Hurrican Higgens
Favourite food
Chinese and Indian.
Anything sweet
Favourite Drink
Coffee
Ambition
To own my own snooker hall.
The source of the above information is from 3 separate documents. The first can be found as part of a press release from Polydor. The other two are also issued by the record companies
One of his favourite groups was the Sensational Alex Harvey Band. The Idle Race was a band that featured Jeff Lynne before he joined The Move, which then morphed in the Electric Light Orchestra.

Page Last Updated: 4 March, 2010
© Morley Enterprises 2006 - 2010. This site, BilboMusic, is a personal site and is not affiliate with Bilbo Baggins, Bilbo, Brian Spence, Colin Chisholm, Jimmy Devlin, Gordon Liddle, Gordon McIntosh, Tam Paton, Chisholm & Spence or anyone else for that matter. Any copyright infringement is accidental. The pictures and music on this site are there for information only. They are not there for any commercial purpose. Therefore, if anyone representing the artist(s) or record company(ies) want me to remove these items please mail me and I will remove them immediately! This site, BilboMusic, and Morley Enterprises are not responsible for the content of any other websites that are linked from here. So there.