Bilbo Music Navigation
The Band
The Music
Information
New Live Dates
Other Stuff

---
Other Members
---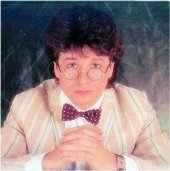 | | |
| --- | --- |
| Name | Peter Vettese |
| Birthdate | |
| Birthplace | |
| Height | |
| Eyes | |
| Hair | |
| Home | |
| Instrument played | Keyboards |
| Musical Education | |
| First appearance | |
| Biggest break | |
| Hobbies | |
| Favourite composer | |
| Dislikes | |
| Likes | |
Born in Scotland Peter-John Vettese (he is of Italian origin - half Italian, half Scottish) started learning the piano at the age of four and at nine he was performing live with his father. He appeared on "Opportunity Knocks" (a UK TV talent show hosted by Hughie Green) fronting a band playing 5 Beatles tracks in 3 minutes. Unfortunately, opportunity did not knock for him at that time.
He left home at 17 playing with a variety of groups, including Scottish band R.A.F. in 1981 before joining Jethro Tull in 1982, after answering an advert in Melody Maker (a UK music paper). By 1985 he had left Jethro Tull and was writing, arranging and producing music. He later worked with many established charts acts, such as Frankie Goes To Hollywood, Go West, Pet Shop Boys, The Bee Gees, Simple Minds, The Cure, Clannad, Carly Simon, Beverley Knight, Heather Small (M People), Melanie C (Spice Girls) and Annie Lennox.
Peter now has a studio in Parsons Green, West London.
After ending the Under Wraps tour on December 18, 1984, Anderson wisely chose to give his voice a much-needed rest, putting the band on another extended hiatus in order to convalesce while tending to his farming business. Back in New York, fresh from his first tour, Doane Perry trotted out photos while playing host to his parents. He recalled:
I remember that Peter Vettese had this habit: Every time there was a camera out, whether it was mine or somebody else's, Peter liked to expose himself. One time after that tour, my folks came over to my house, and I was showing some pictures of the tour. I realized all these pictures were in there, and my mother kept saying, "Why is that little guy with the glasses always talking his trousers off?" And I really didn't have an answer for that - and I still don't really have an answer for that. Pete had a penchant for exposing himself. He was a very dirty young man, and especially pictures that I was in, I would often get them home, and see that Peter was standing behind me, and perhaps he was resting "himself" gently on my shoulder, unbeknownst to me, or somewhere close by, giving himself a little "airing out."
Peter is mentioned in Donny Osmond's autobiography, "Life Is Just What You Make It", as Peter did some recording with him. It was during the period that Donny was trying to get his recording career back on track and Peter Gabriel was helping him out by letting him use his studio near Bath. He was working with a producer called George Acogny and he actually says in his book:

George had some very interesting, progressive ideas. He also brought in some great musicians, including bassist Darryl Jones, keyboardist Peter Vetesse, and drummer Manu Katche, and we started recording at Ashcombe House.

Page Last Updated: 4 March, 2010
© Morley Enterprises 2006 - 2010. This site, BilboMusic, is a personal site and is not affiliate with Bilbo Baggins, Bilbo, Brian Spence, Colin Chisholm, Jimmy Devlin, Gordon Liddle, Gordon McIntosh, Tam Paton, Chisholm & Spence or anyone else for that matter. Any copyright infringement is accidental. The pictures and music on this site are there for information only. They are not there for any commercial purpose. Therefore, if anyone representing the artist(s) or record company(ies) want me to remove these items please mail me and I will remove them immediately! This site, BilboMusic, and Morley Enterprises are not responsible for the content of any other websites that are linked from here. So there.