---
Bilbo Today
---
Now it's time to fast forward around 30 years and find out what fate had in store for our heroes. These photos were taken in the summer of 2005 whilst Brian was visiting Edinburgh. He and Colin have stayed close over the years, seeing the others more occasionally.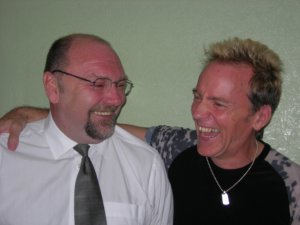 DEV left the band in 1976 following their fallout in Gibraltar. On first meeting it was impossible not to like Dev due to his huge charm and friendliness. Dev had many devoted fans. He turned his talents to the business side of the music industry with enormous success. Dev rose to the dizzy heights of Managing Director of Polydor Records (the label that Bilbo were originally signed to) and lived near to London. He was also successful in Artist management looking after bands including Simple Minds and China Crisis. Dev has now relocated back to Scotland, lives in Kirkcaldy and runs a record company. He is also involved with the website www.rockandpopshop.com which specialises in rock and pop memorabilia. Dev is married to Liz and they have four children.

Dev (left) and Brian (right) can be seen together in the picture on the right, from when they got together in 2005.
FID remained with Bilbo until their split in 1979. As an unemployed drummer he completely turned his career around in the most extraordinary way. He must have worked incredibly hard to gain the necessary qualifications to enter the legal profession. Fid now lives in Edinburgh and is a Sheriff (Scottish equivalent of an English Judge). However, he has not completely left music behind and still drums regularly in a band with some of his legal colleagues. Fid was probably one of the more serious members of Bilbo but this transformation of his life is still quite amazing.
COLIN went on to form Chisholm and Spence with Brian after Bilbo folded. Over the years he has continued to put his unique voice to good use with various musical projects (for more information go to www.spencemusic.co.uk). Colin lives in Edinburgh and is currently Advertising Manager for an organization called Men in Childcare. He is still very much involved in music and regularly sings on commercials.
Colin is married to Gillian and they have two children who are both musical and seem to be following in their dad's footsteps. Their daughter Chloe is currently in London making her mark as a singer (see www.myspace.com/chloeec) and their son David is the drummer in Edinburgh band Unknown Hagana (see www.myspace.com/unknownhagana for more info). Colin has, apparently, developed a passion for golf so can often be found on the fairway.
In the picture on the left can be seen Colin (left), Fid (centre) and Brian (right). In the early days of the band Brian was known as the one without hair. Strange how things turn around.
TOSH also remained with Bilbo until their split in 1979. He still lives in Edinburgh and is married to Margaret with two children. Tosh is still a keen guitarist and plays in clubs at the weekends. Unfortunately we don't have a recent picture of Tosh or any further information - if anybody can help out with this we would be glad to hear from you.
BRIAN is the only member of Bilbo to work continuously as a musician since leaving the band - no mean achievement in a notoriously fickle business. After Chisholm and Spence he went on to release 2 solo albums, several singles, he collaborated with other artists, worked as a writer and producer, wrote and performed his musical 'MacGregor's Trap' and regularly played gigs (for more detailed information go to www.spencemusic.co.uk). On an early profile of Bilbo Brian said that his ambition was to have his own studio which he has gone on to achieve.
Bilbo were all hugely patriotic - to say they were proud to be Scottish would be an understatement and they would always try and argue the superiority of their nation in everything (not that their English fans always agreed!). Therefore it was quite a surprise to discover that Brian actually chose to move to London many years ago now. This is where he currently lives with his wife Debbie who is a singer. They perform together every weekend as Wonderful World playing covers and original material, usually in the London area. Brian has two stepsons - Ben from his first marriage and Che with Debbie.
Brian is also often involved in other musical projects. At present he has written the music for a play called 'The Last Laugh' which has toured around the country in February and March 2007 and is due to transfer to the West End. At the same time Brian has also composed the music for an ambitious musical version of 'Picnic at Hanging Rock' which has been successfully staged at the Minerva Theatre, Chichester.
So, are we ever likely to see Bilbo take part in a 70s revival tour? As they are all so busy with other projects maybe the chances are not good. But perhaps with the right encouragement you never know …..