---
James (Dev) Devlin
---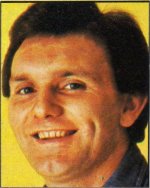 Birthday: 28.11.1952
Bass Guitar/Backing Vocals
A key founder member of Bilbo Baggins, Dev is from Edinburgh and has one brother. A 'larger than life' personality who clearly loved what he was doing and always seemed to be enjoying himself. On stage Dev had a big presence and could be extremely entertaining. Off stage Dev had great charm and was very likeable. In the early days of the band Dev's mum helped them out by making tartan jackets out of blankets. Like most of the band he's a big football fan and supports the Edinburgh team Hibernian.
Dev had to make a very untimely departure from the band in August 1976 following a fall out between them during a trip to Gibraltar. This was no doubt a rash decision and later much regretted. It was a traumatic time for them all and the BB fans were very upset. However, Dev overcame this situation and used his many talents to go on to pursue a very successful career within the music industry.
To find out what Dev is doing now go to Bilbo Today.

---
The information collected below is from various promotional information sheets. Sometimes the information conflicts, i.e. year of birth, eye colour, etc.
Name

Jimmy Quinn Devlin

Birthdate
28th November 1952
Birthplace
Edinburgh
Height
5' 11"
Eyes
Slate or Hazel
Hair
Brown
Home
Edinburgh
Instrument played
Bass guitar,
vocals
Musical Education
Piano lessons age 9-12
First appearance
1966 double date, public school barbeque then 21st party
Biggest break
Meeting Tam Paton
Hobbies
Fishing,
home brewing
Favourite composer
Lennon /McCartney
Dislikes
Travelling,
planes and
boats
Likes
Bikes,
traditional Scots food -tattles (potato scones)
Bubble Gum
Meeting People
The source of the above information is from 2 separate documents. The first can be found as part of a press release from Polydor. The other was also issued by the record company. The other members of the band had a revised profile issued by Lightning Records. Dev had left the band by this time.