Bilbo Music Navigation
The Band
The Music
Information
New Live Dates
Other Stuff

---
Brian Spence
---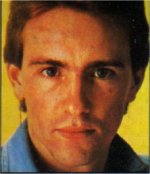 Birthday: 07.07.1953
Guitarist/Keyboards/Backing Vocals/Main Songwriter
Brian grew up in the Clermiston area of Edinburgh, one of four brothers and also a neighbour of Tosh. A naturally talented and instinctive musician, he played in several local bands before becoming a founder member of Bilbo Baggins with Dev and Colin. He was very dedicated to their ambitions of becoming a successful band and took a serious approach to ensuring everything was 'just right' on stage. In the early days he was best known as being the bald one - on stage he would sometimes give a 'mean and moody' staring performance but at other times would joke around with the rest of the band.
Brian was always interested in creating a fresh look for the band and often came up with new ideas for a good image (although he probably would not own up to the lycra and perms). Following Dev's departure Brian became the main guitarist and soon the group's songwriter. Brian was always popular with their fans and after saying in a profile of the band that he liked marshmallows he had an almost constant supply. Brian is the only former BB member to still be working as a musician. Over the years he has released 2 solo albums, written and staged the musical MacGregor's Trap, released the excellent 'Postcards' album with The Wish and been involved in many other projects. (For more up to date information go to Spence Music)
To find out what Brian is doing now go to Bilbo Today.

---
The information collected below is from various promotional information sheets. Sometimes the information conflicts, i.e. year of birth, eye colour, etc.
Name

Brian Spence

Birthdate
7th February 1955 (or 1953)
Birthplace
Edinburgh
Height
5' 8" or 5' 7 1/2"
Eyes
Bloodshot! or Blue or Greeny Blue
Hair
Brown or Fair
Weight
9st 9lb
Home
Edinburgh
Instrument played
Piano,
guitar,
accordion,
harmonies
Musical Education
Self-taught
Early Musical Influences
The Beatles,
Rolling Stones
Favourite Records
"Albatross" - Fleetwood Mac
"Something In The Air" - Thunderclap Newman
First appearance
Bus shelter in Edinburgh
Biggest break
Forming Bilbo Baggins
Hobbies
Eating ... then dieting!
Reading (nonfiction)
Favourite composer
John Lennon
Dislikes
Long, wide trousers,
Receptions,
Shaking Hands
Talking about the Weather
Domineering Personalities
Likes
Bald women,
Frisbeeing,
Cheese on Toast,
Sun,
Marshmallows
Favourite Films
The Exorcist,
Close Encounters
Favourite TV Programmes
Top Of The Pops,
Tomorrow's World,
Whistle Test,
I Claudius
Favourite Personality
Derek Jacobi,
John Hurt
Favourite food
MacDonald's Hamburgers
Favourite Drink
Tea
Ambition

To have my own studio
The source of the above information is from 3 separate documents. The first can be found as part of a press release from Polydor. The other two are also issued by the record companies

Page Last Updated: 4 March, 2010
© Morley Enterprises 2006 - 2010. This site, BilboMusic, is a personal site and is not affiliate with Bilbo Baggins, Bilbo, Brian Spence, Colin Chisholm, Jimmy Devlin, Gordon Liddle, Gordon McIntosh, Tam Paton, Chisholm & Spence or anyone else for that matter. Any copyright infringement is accidental. The pictures and music on this site are there for information only. They are not there for any commercial purpose. Therefore, if anyone representing the artist(s) or record company(ies) want me to remove these items please mail me and I will remove them immediately! This site, BilboMusic, and Morley Enterprises are not responsible for the content of any other websites that are linked from here. So there.