---
Bilbo Baggins Home Page
---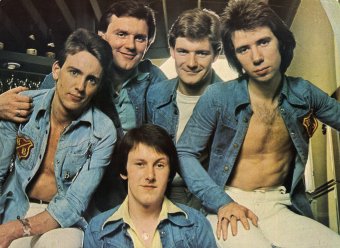 This website is a tribute to Bilbo Baggins, latterly known just as Bilbo, a Scottish pop band with a loyal fan base. Formed in Edinburgh in 1972 and comprising of band members Dev, Colin, Brian, Fid and Tosh they played 100s of gigs throughout the UK during the seventies. Known by many through their connection to the Bay City Rollers (Tam Paton was manager for both bands) but actually being a completely different style of band. Their pop music leant a lot more towards rock with a more funky and fuller sound.
Bilbo's great strength was their live performance. They would always deliver a solid set and their great sense of humour would often shine through as they joked with the audience. Colin's unique vocal style was also key to their sound - his amazing vocal range could send shivers down your spine and vibrations through your feet. One of their greatest challenges must have been as support band on the Roller's tour in 1976 but even this very biased audience warmed to them.
Bilbo were a dedicated, determined and hard-working band and they must also rate as one of the most unlucky. The Roller connection did initially give them some good openings but it really was a double-edged sword. The serious music press did not warm to them and they were often not included on radio playlists, although local radio stations and Radio Luxembourg were a lot more supportive. Their first few singles stayed frustratingly outside of the Top 50 (probably due to lack of national radio play) which meant they did not get to appear on Top of the Pops and gain the exposure of the then most important music TV show. After their final split from Tam Paton management they were left with contractual disputes and 1977 became a very difficult year for them as they tried to get back on track. By 1978 when they were signed to Lightning records the tide of musical taste had turned away from pop and was embracing punk and New Wave. Despite a change of image (some rather dodgy perms and Lycra), it was now too late for the band to achieve the commercial success they really deserved.
On this site we hope to tell the story of the band and give some insight into the band members and what they have gone on to do after the band finally split up in 1979.
---
Recent Updates
---
By the very nature of Bilbo's current status updates will be irregular. If there is important news we will send out a newsletter, so be sure to subscribe to the mailing list (see the navigation bar to the left).
8th May 2013
We know it's been a while since the our update. However, this time we really have something to update you with. For those that don't know (is there anyone?) Colin was entered as a contestant on The Voice UK by his daughter Chloe.
There is so much happening onthe various medias that we are not going to put everything on here just yet. However, we will be updating the site with this exciting information when we get the chance.
4th September 2010
We are happy to report the news of a new Bilbo Baggins concert being available to see on You Tube for the first time. In fact for English fans this may well be the first opportunity to see the concert at all as it was originally only shown on Scottish TV. The concert was filmed in March 1978 and shows a very different performance to the other video clips available of the band. They are wearing a short lived very smart image (1978 saw them change their look several times) and give an energetic and tight musical performance. Sadly the audience don't seem to fully appreciate them!

Scottish TV have also released a solo concert from Colin which was recorded in 1981. Again in this short space of time he has changed image considerably and has quite a different style of band with him. Definitely worth a watch!

To watch these videos please click on the links below.
22nd August 2009
Live Colin Page: We have created a new page to list Colin's up and coming live performances. We are excited by this development as the dates are coming directly from Colin himself. We hope to be able to let you know about all of Colin's future dates. To celebrate this a new section has been created in the navigation section to the left called New Live Dates, where you will find a link to Colin's Dates. In the future we hope to be able to report on Brian's dates too, plus any of the other Bilbo's live outings. Live Colin Dates

Colin on YouTube: Colin has been working with Songwriter Bob Heatlie to create songs in a opera style, using a made up language as Bob doesn't know Italian. Honestly, give it a try. It's not that bad. In addition, Bob has created a musical, called Revolution, telling the tale of love and deceit during the Russian Revolution. Colin is featured in a number of these songs. These can be found on the Colin YouTube page under Other Stuff. Colin on YouTube
7th March 2009
Colin Gig Date: Colin will be playing a gig at Edinburgh Forrester Rugby Club on Saturday 7th March 2009. If you are able to go let us know how Colin sounds.
7th March 2008
Fan Gallery: We have introduced a new section called "The Fan's Gallery". The idea is for you to send us your photographs of you with any of the band members. First up is Graeme W of Edinburgh who sent us some great pictures of him with Fid, Colin and Brian. If you can better his pictures then let us know. In the meantime, have a look at what Graeme sent us at Fan's Gallery.
21st January 2008
Chisholm Goes On The Web: Thanks to an email from Heather it can now be revealed that Colin now has his own website promoting him as a singer. The website colinchisholm.com is still under development but, according to Bill Smith (Colin's manager), will list future events Colin will be appearing at. There are no dates at present as dates have still to be confirmed.

The fact there is a website at all is a promising start. However, most, if not all, are likely to be in Colin's native Scotland, which leaves fans from south of the border looking to travel north. It is likely that Colin will perform music from musicals rather than songs from the days of Bilbo Baggins, but Colin has a superb voice and is well worth going to see, whatever he is performing, be it musicals, Bilbo or entries from the telephone directory.
8th January 2007
Message from Bilbo Music: Happy New Year to everyone. We hope you survived the festive season with all your brain cells intact.

Pictures from Brian: Like Dev before him, Brian has sent Bilbo Music some very rare pictures of the band during their early days. These can be viewed on Bilbo's Own Pics page.
5th October 2007
Pictures from Dev: Since we created the website Dev has got in contact to tell us that he thinks the site is great and has also sent us some addition pictures to use. These can be seen on page 3 of the pin-ups or by clicking on the following link. Go to Dev's Pictures.
26May 2007
Colin Performs: On Saturday 26th May 2007 Colin returned to the live stage for the first time in 6 years. He sang in Edinburgh for a private party and apparently received a fantastic reception. We hope that this will be the start of regular live performance for Colin. Maybe a possible Bilbo reunion could be one step nearer!