Bilbo Music Navigation
The Band
The Music
Information
New Live Dates
Other Stuff

---
Colin Chisholm
---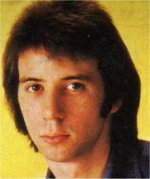 Birthday: 01.03.1953
Lead Vocals
Colin also grew up in Edinburgh and has one brother. He had previously got close to success with a band called Reflection who got as far as the popular TV show Opportunity Knocks. A founder member of Bilbo Baggins with Brian and Dev, Colin has the most amazing and unique voice with a tremendous range. He is also a football fan and supports the Edinburgh team Hearts.
Following the break-up of Bilbo in 1979 Colin went on to form a duo with Brian as Chisholm and Spence. He later continued to perform as a solo artist on the cabaret circuit in Scotland and made some TV appearances. In 1995 he again worked with Brian and recorded and staged his critically acclaimed musical MacGregor's Trap. The duo were back together again in 1998 when they were the support act for Don Williams during his UK tour, playing an acoustic set. (For more up to date information go to Spence Music)
To find out what Colin is doing now go to Bilbo Today.

---
The information collected below is from various promotional information sheets. Sometimes the information conflicts, i.e. year of birth, eye colour, etc.
Name
Colin Chisholm
Birthdate
1st March 1953 (or 1st May)
Birthplace
Edinburgh
Height
5' 8 1/2"
Eyes
Brown or blue
Hair
Brown
Weight
9st 7lb
Home
Edinburgh
Instrument played
Vocals
Drums
Piano
Early Musical Influences
Brenda Lee,
Little Richard
Favourite Records
"Blue" - Joni Mitchell
Any Gladys Knight
Musical Education
In the bath!
First appearance
In the bath!
Biggest break
Opportunity Knocks
Hobbies
Badminton,
Pool
Fishing
Favourite composer
Joni Mitchell
Dislikes
Smoothies,
Eggs,
Plastic fruit,
Poseurs
Likes
Lager
Ladies,
Darts,
Snooker,
Pool,
Badminton,
Eating
Animals
Driving
Favourite Films
Bambi,
King Kong
Favourite TV Programmes
Best Sellers series,
TV Sport,
Andy Pandy
Favourite Personality
Rab Smith (Darts player),
Olivia Newton John,
Prince Charles
Favourite food
Anything I cook myself,
Curries
Favourite Drink
Lager,
dark rum,
coke
Ambition
To conquer the entire galaxy
The source of the above information is from 3 separate documents. The first can be found as part of a press release from Polydor. The other two are also issued by the record companies
Colin can also be heard on Runrig's album "The Big Wheel" as a backing vocalist on 4 tracks, including the fantastic "Hearthammer", which was released as a single in 1991, only reaching 25 in the UK charts (although it should have got much higher).
Colin can be heard singing on the tracks for the film 'Comfort and Joy' and Channel Four's 'Propects' series as well as countless commercials (source: cover for MacGregor's Trap).

Page Last Updated: 4 March, 2010
© Morley Enterprises 2006 - 2010. This site, BilboMusic, is a personal site and is not affiliate with Bilbo Baggins, Bilbo, Brian Spence, Colin Chisholm, Jimmy Devlin, Gordon Liddle, Gordon McIntosh, Tam Paton, Chisholm & Spence or anyone else for that matter. Any copyright infringement is accidental. The pictures and music on this site are there for information only. They are not there for any commercial purpose. Therefore, if anyone representing the artist(s) or record company(ies) want me to remove these items please mail me and I will remove them immediately! This site, BilboMusic, and Morley Enterprises are not responsible for the content of any other websites that are linked from here. So there.